June 1st, 2008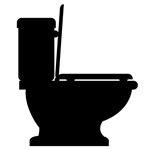 Damn Social Media and its burst of success. Wouldn't you know as soon as I take a break to focus more on other projects, traffic tanks.? This is an analysis of what I did wrong and what I can do to create a more steady flow.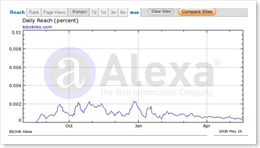 As you can see, traffic never was mind blowing, but it sure dropped off faster than I would of imagined.? During the month of December 2007, we had a record high of 8,900 unique visitors and I was posting on the blog almost everyday.? I also was just winding down a promotional banner campaign.
Lets look more closely at what I did do and then brainstorm a plan to get my visitors back.
Starter Promotional Campaign
I kicked off my promotional campaign with web directories.? I started by submitting to a whole bunch of free directories and topped it off with quite a few quality paid directories.? I think that is decent place to start a linking profile for any web site.? I followed up with a few permanent links (non-paid) and some heavy forum promotion.? This was all part of branding schema and it worked fairly well.? I wanted to rank first for "Lobo Links" and believe it or not their was competition.?? I finished that up with more general quality directories.
Social Media
I thought I had really hit paydirt when I discovered and explored social media marketing.? I experimented heavily on networks such as Entrecard, StumbleUpon, Mixx, and Sphinn.? Traffic was doing great and I was thrilled with my new found success.? I invested more and more time into quality blog post that would hopefully build traffic.? The good news is, that worked.? It helped a ton with branding and really got my name out there.? The bad news is, it didn't work.? As soon as I stopped investing time in social media and blogging, traffic went down.? I guess it is to be expected, but surely shocking at how fast it plummeted.
Things I Failed To Do…
I hardly invested any time in SERP position for major keywords and I did not want to get on Google's bad side any more than I possibly was already, as if owning a directory was not bad enough.? The hard reality is though without trying to at least gain some position for some hot keywords, you will be just another listing in some nameless directory.? We all know there are millions of those.? Thankfully, I did well with a few blog post and got some decent traffic from them.
Affiliate Promotion
I was smart enough to give an affiliate program a shot, but not smart enough to put in the promotion required for it.? So I have began to work on that more and hopefully it will pay off in the future.? It has so far…
Directory List
I have known about directory list (etc) since I got started in the Directory Industry, but didn't think they were worth wasting my time with.? A very severe error on my part for sure.? Since coming back onto the scene I have got my web directory listed on quite a few and it is paying off extremely well.
I Can Still Get It Up And Keep It Up!
Unfortunately, they don't make a blue pill for limp traffic ranks.? However, I think with a more balanced SEO/SEM campaign I can get traffic to a satisfying level and keep it there.? I now know you can't just be strong in one area and weak in others.? I hate admitting I made mistakes, but I guess it's all part of it.
Posted in
Internal SEO
,
Marketing
,
Social Media
• Tags:
alexa rank down
,
increasing traffic
,
Lobo Links