July 19th, 2008

I am embarrassed to say I Google'd this for almost 20 minutes before I realized how stupid I was to make this more complicated that it actually was.  In retrospect, this widget is nothing more than an RSS feed provided by Entrecard.  I spruced mine up some with nofollow and an image to give it my desired appeal.  I will give the complete instructions to do it all and more to fit your needs.  Yeah, I chose nofollow for the widget as I post my top droppers at the end of the month.  I will discuss the pros and cons of both in my next post this week.
The First Step
The first step is just too simple for text, but you need to copy the rss feed url from you Entrecard statistics page as seen below.

The RSS Widget, Step 2
You need to log into WordPress admin and find you widgets panel.  Next, you need to create a new RSS widget and fill in the proper data.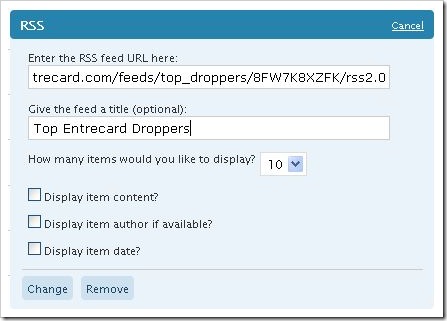 Now save and arrange your widget where you want it displayed in your sidebar. If you do not want to add nofollow you are done.  If you would like to display more than 10 you can set those options also.
Posted in
Blogging
,
How To
,
Social Media
•