July 26th, 2008

As of lately there has a fairly new trend with Entrecard users. The trend is to advertise / praise their top droppers. This is an excellent opportunity to build links across a wide variety of niches and overtime it could mean a world of difference. It is not necessarily a link that matters or will help you gain position in the SERPS. What I simply mean by that is the link anchor text will most likely be your name and you should already rank for that easily. So far, I have noticed only two methods for this new linking trend. One of them is the top dropper widget and the second is a standard top dropper post. I will talk about both and how they can be used together for the best overall benefit.
The Widget Option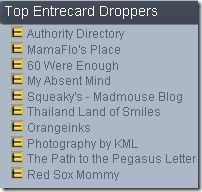 Building an Entrecard Top Dropper Widget for WordPress is very simple and I guess effective for short term thinkers. It does serve the purpose of linking to your most frequent droppers for a moment of glory, but it has no long term effects. If I drop on you hardcore for a couple months and then for some reason stop, I have earned nothing for my hard work. Just for instance, lets say my computer blows up and it is months before I can replace it. All my hard work is potentially wasted when it comes to this benefit.
Another thing to think about is the fact you will always be giving away X links to whoever is on top. If not set up correctly, you could end up with this happening site wide. While, site wide sounds tempting and very rewarding, it has its own downfalls. You might need / want that valuable link juice in other places and once again this only adds short term value as people will most likely be replaced day to day. As you can see I favor the post method.
Thanks for sharing this. I think this is another great tool to motivate droppers to drop on our blog
Thanks Reena, this is what I find most useful about the widget and I will discuss it more during the combination of both ideas.
The Post Option
To me, this has more stigmata than the widget mostly because of the long term value as a blog post is forever. Tomorrow, my computer might break and be down for one month before I can fix it. Easily, I will lose my spot as a top dropper and my hard work has gone down the drain.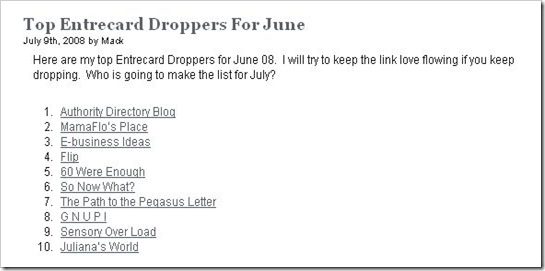 When Bruce at Authority Directory is reviewing his linking profile, I know he will be pleased to see he has received a little link love from me. Even if Bruce was to never drop his card here again it reassures him his support has not been forgotten. Everyone wants to be acknowledged and I can think of no better way than a permanent link.
Post + Widget = The Entrecard Combo
Why not? I want to motivate droppers and reward those that have been supporting my blog with a permanent link. How do we accomplish this? Easy, we add nofollow to the top dropper widget and post our top droppers at the end of each month. This is clearly the best of both worlds for the owner and droppers.
Posted in
Blogging
•