November 18th, 2007
A lot of times to become a strong force in any market you must target some popular search terms / keywords.? Investing in keywords can deliver traffic and sales for years depending on how competitively that term is being pursued by others.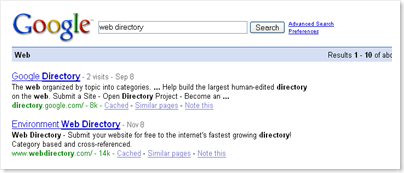 Keyword Research
The first step is too research the keywords you would like to target so you can try to estimate the ROI for each.? This should really be done before any type of site marketing begins, but I failed to do so with this site and now I am suffering for it.? I could of better managed my marketing budget to include targeting some keywords from the start.? Oh well, mistakes will be made.? I picked a few popular tools to compile my keyword list with, but there are quite a few more tools available for keyword research.
I always suggest at least analyzing 25 to 50 keywords to get a good feel for any market, but that is totally up to you.? Odds are you will only be able to put a lot of your focus on 2 or 3 in the first year.? if you can successfully optimize your site and marketing campaign for more keywords that is great.
Understanding your research
The majority of keyword tools draw their data from different resources provided by the search engine companies and 3rd party devices like toolbars.? I think we can safely say that most keyword information is all estimation.? So a popular keyword does not mean it will provide a good ROI for marketing.? Also all big numbers you see for 1 and 2 word terms are also derived from long tail searches.? Lets look at the overture tool results for web directory for example.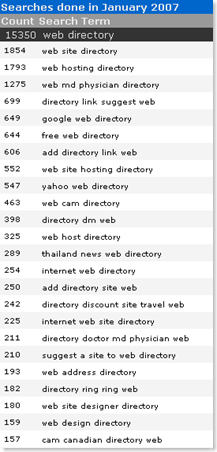 A small excerpt from my work
Keyword Discovery has lots of keyword analytics, but I chose to use their predicted daily stats for a better overall estimate.
Overture results are provided by the Yahoo Search Engine.? They results are from the month of January of 2007.
SEOmoz's Keyword Difficulty Tool uses WordTracker results to generate its overall difficulty.
| | | | |
| --- | --- | --- | --- |
| Target Keyword | KeywordDiscovery.com | Overture | Keyword Difficulty |
| Web Directory | daily 168 | 15,350 | 77% |
| Submit Url | daily 071 | 4,374 | 70% |
| Submit Site | daily 034 | 9,843 | 71% |
| Add Url | daily 111 | 13,026 | 73% |
| Internet Directory | daily 108 | 3,331 | 56% |
| Business Directory | daily 408 | 81,934 | 77% |
| Add Your Site | daily 006 | 5,595 | 70% |
Posted in
Marketing
• Tags:
keyword research
,
keywords
,
niche topics
,
niche websites
,
organic traffic
,
popular terms
,
search engine optimization
,
search engines
,
search phrases
,
search terms
,
web marketing
,
website marketing