July 4th, 2008
It is always nice to see the top engines competing even for the best holiday logos. Who do you think had the best?
Google
Yahoo
[kml_flashembed movie="http://www.lobolinks.com//blog/wp-content/uploads/2008/07/mh2.swf" height="60″ width="320″ loop="true" /]
Ask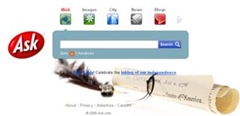 I found it strange the Live chose not to compete and that Ask went with a background like design instead of changing the logo. I failed to show the msn.com screen as it just didn't seem worthy. I really like the flash that Yahoo decided to go with and Google always has a very creative logo idea.
Posted in
Discussions
•