October 12th, 2007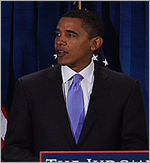 Barack Obama in my opinion has revolutionized the way campaigns will be ran in the future. You just can not deny the buzz he creates using common SEO strategies we all utilize to promote our online businesses and projects. Obama has been able to raise a reported $31 million for his second quarter campaign fund through an amazing number of 258,000 contributions from his loyal supporters.
What is his big secret? Obama brought something to the campaign front that no one else has been able to do, convenience. You don't have to turn on the TV to find out what he is all about or try to fit him into your busy schedule. His website is available twenty-four hours a day, Obama 08. You can also find related Obama material on YouTube, Myspace, Facebook and Flickr. Another factor of convenience that Obama brought to the table for his '08 Presidential Campaign was the ability contribute small donations on his website.
The advantages of Internet fund raising are many. It's quick, cheap and far less intimidating for political novices than writing a big check. Some campaigns have set up systems by which donors can have their credit cards billed automatically in easy-to-budget monthly amounts of as little as $20. "We're seeing the full flowering of the Internet for fund raising for presidential races," says former Federal Election Commission chairman Michael Toner, who is currently advising Republican Fred Thompson as he ponders whether to enter the fray.
Obama's website is really quite impressive. He has spared no expense for his internet marketing campaign. You can literally create your own blog post, profiles, friends list, participate in groups, private messages, create your own fund raising campaigns, and shop Obama apparel in his online store.
Posted in
Discussions
•