July 11th, 2008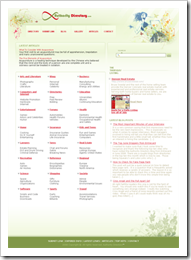 Authority Web Directory is by far one of my favorites out there today. The owner, Bruce Swedal is an upcoming and knowledgeable source for quality directory tips. In my opinion, his post about directory methods for ranking links was just pure genius.
Aside from the very unique design and great features, what does Authority Directory offer I can not find anywhere else? First Off, you can not dismiss the unique design of Authority Directory, what a smashing job on the owners part. It is the key in fundamentals to offer your customers something they have never seen before. In addition, Bruce has added an awesome gallery divulged with outstanding pictures, and a very unique blog filled with great content for just about anyone.
In 2008, Authority Directory was awarded the directory of the month by Php Link Directory, and in 2007 Authority Directory was runner-up for the best web directory of the year. No matter which way you flip it, you can not deny that Authority Directory is becoming a strong force in today's directory industry.
The Authority Web Directory
You just can not ask for a better owner and manager. Bruce, does an excellent job and as many owners know in the cut-throat world of directory industry, you can consider Bruce your friend. Authority Directory has a very lean cut guide for submissions and that is a key sign of an excellent administrator.
Submission Guidelines
? Submit your website to the category that is most relevant. Only featured listings are allowed in top level categories.
? We reserve all rights to modify, move or reclassify any listing without notice.
? Do not submit websites with broken links.
? All submitted sites should support multiple browsers.
? Write a quality and unique description for your site that is free of grammatical errors for faster review.
? Use proper capitalization. Only the first letter of a sentence and proper nouns should be capitalized.
? Sites using pop-up or pop-under marketing may not be accepted.
? Websites that contain the following are not accepted: fraud, copyright infringement, gambling, pornography, libel or illegal content.
? All listings are subject to annual reviews.
? Sites submitted should be in English or have an English version available with titles and description in English.
? Do not submit websites that contain links to affiliate programs or sites designed for affiliate links.
? Websites submitted should be complete and not under construction.
? The websites purpose, products and services should be clear.
? Review time is generally 24 to 48 hours.
? Non-Profits and Charities read this.
? By submitting you acknowledge having read and agree to our terms of service.
Bruce only charges a minimal fee to have your listing reviewed and it is very much worth it in my personal opinion. At one time, my listing for Lobo Links Web Directory ranked on the first page of Google for the query "Lobo Links" and that is not mentioning the substantial amount of traffic I have received for it. You just can not go wrong with a listing at this directory.

Every Site Can't Be Perfect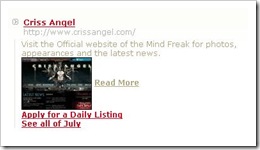 It would not be a review if I did not at least point out one or two things that I personally do not like. The daily listing that occurs only on the front page from what I can tell needs the image to the left of the title and text. Something about it being on the bottom just doesn't fit.
Also in the Authority Directory Blog, the light color gray text is sometimes hard for me to read and I have to squint to make it out.
The Overview
Apart from a few minor personal design dislikes, Authority Directory continues to be one of my favorite directories on the Web today. The prices are fair and the owner has done a fabulous job so far, that you can not put a price on. I would just like to thank him for such a great resource and congratulate him on a growing web directory.
Posted in
Directory Overviews
•